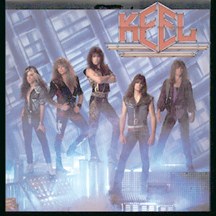 Featured VinylCheese
Keel (self titled)

This VinylCheese Features is dedicated to Keel and their 1987 self titled album. We are led into this little gem with a magestic guitar solo then, with no bridge whatsoever, straight into the rock anthem United Nations. Actual recording studio discussion outtake:
"So guys, we have this great song but I can't come up with a bridge from the intro. Well that's OK, we'll just chop into your magestic solo with the first verse."
Some of the wonderous lyrics include: "I had a hard time learnin', what love was all about, I went down on Cherry Lane and Woa-oo, I found out" -Cherry Lane

Science has proven again and again that chicks dig guys who wear leather pants with tightly stuffed lace up crotches.
Band Members:
Marc Ferrari - Lead Guitar & Vocals
Bryan Jay - Lead Guitar & Vocals
Ron Keel - Voice, Guitars & Keyboards
Kenny Chaisson - Bass Guitar & Vocals
Dwain Miller - Drums, Percussion & Vocals
One would think that with so many lead guitars and vocalists there might be the smallest glimmer of taste in there somewhere.

KEELAHOLICS FAN CLUB
Ventura Blvd., 1-710
Sherman Oaks, CA 91403
For your listening (dis)pleasure "United Nations".