Featured VinylCheese
Jimmy & Kristy McNichol

Our current VinylCheese selections pretty much speak for themselves. The siblings McNichol take on the Teen Idol Pop Music industry in one fell swoop with this masterful piece of recorded history. Not only do we include the 1978 RCA full length release "Jimmy & Kristy McNichol", but also the single, "He's So Fine" b-sided with "He's a Dancer".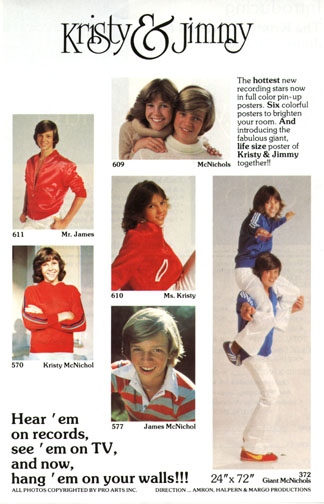 This album was an absolute treasure to find. First, we were excited by the asinine cover. Upon closer examination we found that, included is a 12" X 24" poster!! If that wasn't enough, we also got an insert with fanclub info, (see left) YEEHAW!!! On the very next day we found the accompanying single. Apparently, the angels were watching over us.
The album opens with a asinine disco song "He's a Dancer", followed by the asinine country song "Page by Page". The real low point of this album has to be the asinine "He's So Fine" with the actual Chiffons singing back-up. The Chiffons must have been buried in debt to actually agree to sing back-up for the McNichol kids on their own song. And did we mention the asinine "My Boyfriend's Back?" Basically it's one asinine song after the next.
If any of you Vinyl Cheese fans are interested in joining the Kristy McNichol or James McNichol fan clubs, send $5.50 for each to
Official Fan Clubs
P.O. Box 760
Medina, OH 44256
**Allow 6-10 weeks for delivery!

Of course this info is from 1978 so we make no guarantees.

Hear for yourself Page by Page