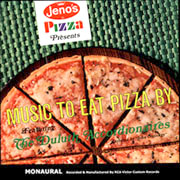 Featured VinylCheese
Music To Eat Pizza By
Featuring The Duluth Accordionaires
mmmm... Pizza... everybody loves Pizza...Right? Especially when it's Jeno's Pizza and you have the Duluth Accordionaies to serenade your digestive processes.
This fabulous album was given away by the generous people at Jeno's Pizza to listen to while enjoying their (nauseating looking) pizza. Here's the best part, the music is as nauseating as the pizza. The Duluth Accordionaires really outdid themselves with this one.
Ahh, distant memories of Junior High School and the slobbering retarded girl who was a part of the Duluth Accordionaires. We appreciated the retarded kid's services when they lugged around buckets of soapy water and washed and ate from the cafeteria tables after the other kids were done with lunch period. Although this record was recorded before the days of the slobbering retarded girl, you'd never notice the difference. Slobbering retarded girl's alway love "easy listening accordian music" and pizza.
In short, this is nauseating music to eat nauseating pizza by.

While listening to this weeks featured track, think of the slobbering retarded girl from your junior high school.Never On Sunday.