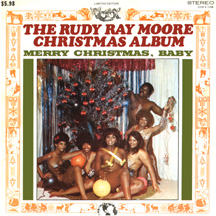 Featured VinylCheese
The Rudy Ray Moore Christmas Album - Merry Christmas, Baby
Welcome to the very last VinylCheese feature of the MILLENNIUM! 1000 years of VinylCheese, who knew?
This year's very special -limited edition- "Christmas Classic" is best described as lewd, lascivious and plain old raunchy. Just right for the Holiday gathering at Grandma's.
Remember when you were young and your family would all gather around to decorate the Christmas tree nude and listen to an Uncle tell tales of Santa fucking Hurricane Annie while the coolest grooves came from the turntable? OK, neither do we, but it sound's great, doesn't it? Our favorite part of this whole fantasy is thinking about our cousins and aunts adorning their totally naked bodies with the ribbons used to wrap the Christmas presents. Nice. There's a vision that could cause serious impairment on anyone.
Our feature, performed by "The Godfather of Rap", xxx-rated comedian, Dolemite himself, 70s blaxploitation actor extraordinaire, Mr. Rudy Ray Moore, was probably released sometime in the early 70s, when both The Sexual Revolution and Black Power were both well underway. We haven't decided if this album was actually a step forward or a back for either movement however. If there is one thing that this album certainly proves is that spoken rhyme to music was happening long before Insane Clown Posse completely bastardized the world of Rap Music with their (unoriginal) blend of Rap/Metal and then went on to "think" they were some kind of professional wrestlers. Yeah, right.
Here's his rendition of T'was The Night Before Christmas.
Sensitive viewers and young children, cover yer ears 'cuz Brutha Rudy Ray is in da house!
Or, you can choose to listen to our CENSORED version.