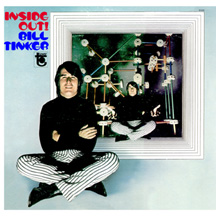 Featured VinylCheese
Bill Tinker - Inside Out!
Like a teen idle went wrong and never was, the fopish Bill Tinker muddles his way throught this array of nauseating "groovier Herman's Hermits" style songs.
But, Bill's got culture. "A Very Ordinary Man" has influences of dixieland with it's banjo, trombone and slide whistle. "You Could Get High" starts with an excellent jaw harp lead in. God knows that we here at VinylCheese LOVE the jaw harp! In fact, one is never more than an arm reach from our keyboard...really.
Bill Tinker is also a tortured man. "Dee Ann" aches with longing. "Again and Again" oozes agony, crooning about the time she made him cry. "The Man From Birmingham" is a soul wrenching protes song. Apparenty,
"A man stood on a hill in Birmingham,
A man just had a gun placed in his hand,
The man put the gun up to his head,
Pulled the trigger and he was dead."
Insert further tripe.
Luckily, that seems to have alleviated the hate from his veins and somehow, this corresponds to Vietnam.
Also, he is a sensitive man. The sleeve notes read:
"I write what I feel, and my deepest desire is for you to feel it too- That's my real pay."

And...

"I'm just sorry that I have to come to you through this 12" piece of plastic disc- that sees neither your eyes nor mine. And that knows no such thing as warmth or expression. It passes neither smile nor tear! And I'm only sorry- that you can't be here- Right Now."
Beautiful. Pure poetry. This man does know exactly how I feel.
Bill Tinker also loves Tinker Toys, which is really what earned him his place here on VinylCheese. The Vision of Bill Tinker as Guru, sitting cross legged and reaching out to give spiritual guidance to anyone in need of it, with skinny black striped on white pants that first lead the eye, then frame his crotch, sitting in front of an abstract Tinker Toy structure. WOW!
Bask like a lizard in the glory that is Bill Tinker, for he will show you the way.You Could Get High.
***ADDED BONUS*** Download the Groovy Guru - Bill Tinker Winamp skin.