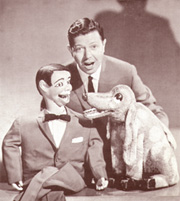 The Cheese of Life
Virtual Ventriloquism
VinylCheese is proud to announce our three part series: Virtual Ventriloquy on the Internet.
Who says you can't learn Ventriloquism on line? Prove those nay-sayers wrong with this time tested method.
Ventriloquism (ven-tri-le-kwi-zem) comes from the latin "Venter" or The Belly and "Loqui" or To Speak.
---
Directions:
Find a dummy
Start the Real Audio file
Follow along with the dialog, your part will be that of the vetriloquist
Pull the dummies strings along with the Real Audio part. If your using a dog or girlfriend, a good sharp jab in the ribs will suffice
Let the dummy guide you through the gamut of hilarious jokes and skits
Shock and amaze your friends!
---
We have three wonderful routines to choose from. We recommend that beginners start with Part 1, then move on as your skills increase.

Part 1 Ventriloquist & Danny O'Day

Part 2 Ventriloquist & Farfel The Dog